The technical spec is pretty tempting. This car offers a dual motor AWD drivetrain with 408bhp and 660Nm of torque – more than a Nissan GT-R. There's a hefty 78kWh battery with a 311 WLTP-rated driving range, the '2' can take off from rest like a scalded cat (62mph occupies just 4.7s) and you'll be flat out all the way to 140mph. Perhaps more importantly, massive efforts have been made to imbue this car with levels of steering feel and body control that are about as far from your perception of Volvo as it's possible to get. And an optional 'Performance Pack' includes a unique set of race-style Ohlins dampers.
You'd recognise the Polestar 2 as a car from the Volvo family of brands (especially from the rear) but it also has a chunky, purposeful sporty and distinctively Swedish feel of its own. Looks probably aren't going to be the primary reason you choose this contender (and they won't immediately advertise the fact that you've probably spent over £50,000 on it) but if you're OK with something a little more conservatively premium, then there's plenty to like here. Under the skin lies the same CMA platform that's used by a Volvo XC40 but it's had to be updated with a unique front subframe for extra crash protection (electric motors are less absorbent in an impact than an engine), plus there are modifications at the rear to support the heavy lithium-ion battery pack.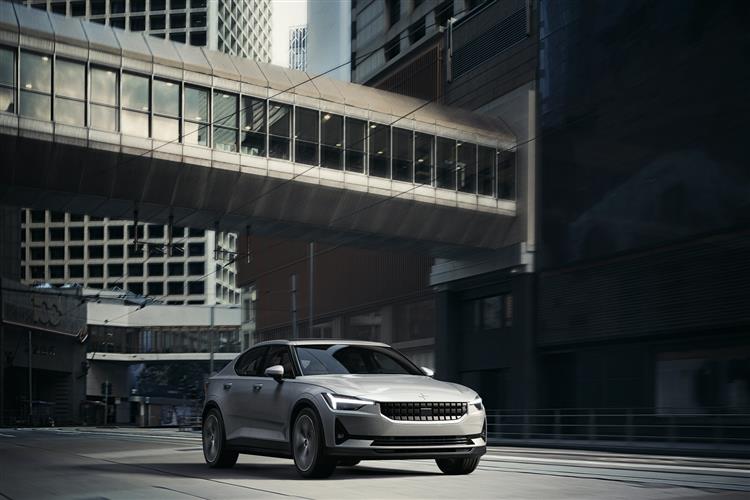 At the wheel, you're favoured with faultless build quality from an interior carefully fitted out with fabric, wood and vegan leather (proper hide is optional). There's a blade-shaped dashboard incorporating a predictably huge central freestanding 11.0-inch portrait-format infotainment screen. This delivers the latest Google Android infotainment system (the first time this set-up's been used by any production car). Unlike Android Auto, you don't have to connect in and then still have to separately activate car stuff (seat positioning, safety system preferences and so on). Google Android infotainment can automatically do all that for you as you approach the car. What else might you need to know about the cabin? Well the seats are soft and supportive, but the window line is rather high, which contributes to rather poor rearward visibility. Careful battery design means that rear seat legroom is surprisingly good for an EV. And once the powered rear hatch rises, you'll view a 405-litre boot, which expands to 1,095-litres with the seats down, plus there's a further 35-litre space beneath the bonnet up-front.
The car's 400-volt electrified set-up delivers the usual replenishment period you'd currently expect from an EV of this kind. So from a garage wallbox, think about 10 hours from empty. If you're out and about and find a 150kW DC public charger, you'd be looking at around 35-45 minutes to get an 80% fill from empty.
And in summary? Well what kind of luxury premium electric car would a real driving enthusiast design? Our first answer would be a Porsche Taycan, but that model's extremely expensive. Our second response to that question would be to direct you towards this Polestar 2. It's clearly been developed by talented engineers, it'll handle on a different level to most other posh EVs and it develops the electric remit with Volvo-style pragmatism. Buying one would be a step into the unknown. But we can see why you might.