It's more powerful and faster than any other EV yet made. As you might expect, it sets a fresh handling benchmark for what a performance EV can be. And its race-derived tech delivers an 800-volt power supply system that allows it to charge much quicker. Taycan pricing is exclusive of course. But if you're looking for the electrified state-of-the-art, you'll find it right here.
There are four available variants. The rear-driven Taycan offers up to 476PS; the other three models include AWD. There's the Taycan 4S (offering up to 530PS), the Turbo (offering up to 680PS) and the Turbo S (offering up to 761PS and good for 62mph from rest in just 2.8 en route to 161mph). Inevitably, the most difficult task the engineers had here was in disguising what as usual on an EV is a prodigious kerb weight – in this case around 2.3-tonnes. Plenty's been thrown at that problem here, starting with torque-vectoring four-wheel drive. On the two volume models, you're going to need to pay extra for a lot of the extra tools that together should make this car feel somehow more agile than a Panamera – things like Dynamic Chassis Control, electromechanical roll stabilisation and rear-wheel steering, all co-ordinated by a clever Porsche 4D Chassis Control set-up.
As for WLTP driving range, well on the rear-driven Taycan that's 268 miles (with the 79.2kWH 'Performance Battery Plus') or 301 miles (with the 93.4kWh 'Performance Battery'). On the Taycan 4S variant with that standard 79.2kWh battery pack, you're looking at just 188 miles. The 'Performance Battery Plus' package (standard on the two Turbo variants) will take you 216 miles in the Turbo version and 205 miles in the Taycan Turbo S. Recharging (speeded by this car's clever 800-volt power supply set-up) takes around 9 hours using an 11 kWh garage wallbox and three-phase supply. Or at a 400-volt public charging station, it'd take about an hour and a half to charge from 5 to 80%.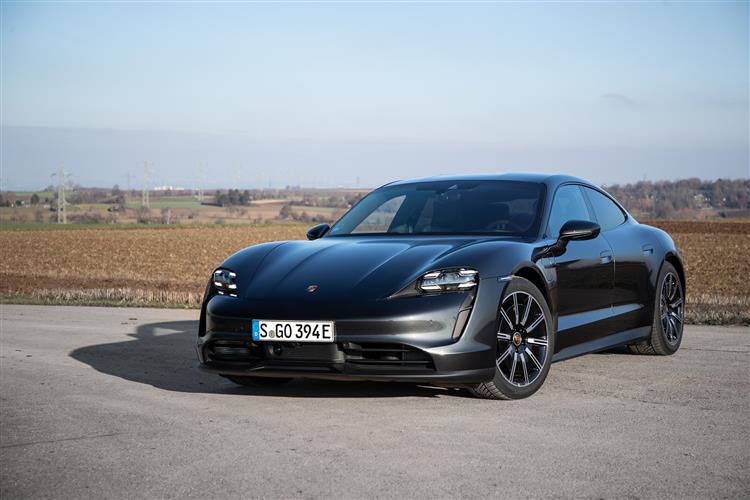 There are three Taycan model choices, your options kicking off with the Taycan 4S which from launch, was priced at around £83,500. With that base variant, you get a smaller 79.2kWh battery pack: you'll have to pay extra for the larger 93kWh 'Performance Battery Plus' you'd ideally want in this car. That's standard in the two top versions in the range. Rather strangely given that this is an electric car without an engine, Porsche has retained its 'Turbo' badging for these, the 'Turbo' version (which from launch cost around £116,000) and the Turbo S (which from launch cost around £139,000).
As you"d expect, it's possible to spend a further fortune on the options list – which you'll need to do if you want all of the handling systems we touched on earlier. As you'd expect, there's also a whole portfolio of available camera and radar-driven safety and autonomous driving tech. Most Taycan owners will want Adaptive Cruise Control, which works particularly well as part of the Porsche InnoDrive system. This can look ahead for up to two miles as you drive using radar and sensor feedback plus predictive GPS data before then modifying speed and gearshift strategy to better suit the speed limits, topographic road features and traffic flow you"re likely to encounter. 'Active Lane Keeping', 'Traffic jam Assist', 'Lane Change Assist' and 'Night Vision Assist' features are also available.
The Taycan's styling confirms that it is indeed possible to create an EV model shape that looks both contemporary and distinctive. And that's carried through to the cockpit, where the gauges are displayed on a cowl-free 16.8-inch curved digital screen. The higher central infotainment screen is 10.9-inches, plus there's also a lower 8.4-inch display for the climate controls. Rear seat space is comfortable for two adults and there's a reasonably-sized 366-litre boot, plus a further 'frunk' nose compartment offering a further 81-litres.