We're looking forward to putting this I-PACE to the test; the prospects certainly look promising. The stuff you need to know here's quite straightforward – by electric vehicle standards anyway. The 90kWh lithium-ion battery pack lies between the axles and Jaguar has specified two electric motors so that it could position the wheels for a perfect 50/50 weight distribution. They're powerful too, giving this 'performance' EV a 395bhp output. Rest to 60mph takes just 4.5s. Drive like that though and the claimed 300 mile operating range will be used up pretty quickly.
You'd expect silent refinement and instant acceleration from rest from an electric car but, due to the heavy weight of all those batteries, less than stellar ride quality. Jaguar claims it's put a lot of work into that and offers I-PACE buyers a wide choice of suspension options. You can have passive or adaptive dampers or air springs with adaptive damping. An electric 4WD system is standard – one of those that can put as much or as little torque as is necessary to any wheel. If you were ever brave enough to try your I-PACE off road, you might be surprised at what it could do. Jaguar claims it would wade up to 500mm of water.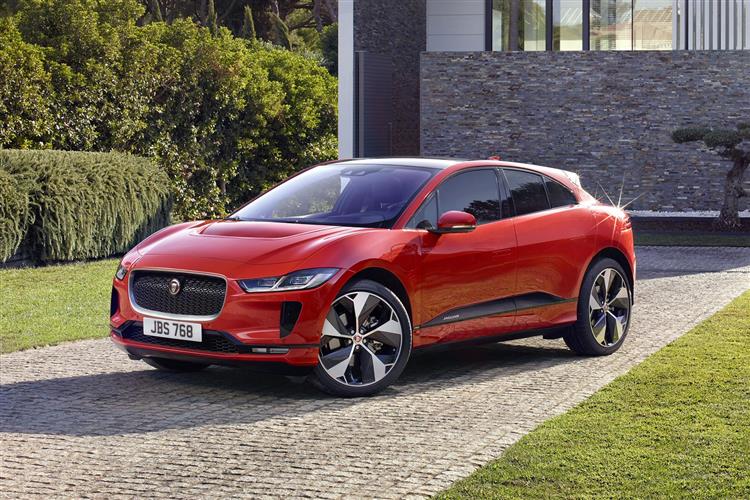 In theory, the I-PACE is a kind of SUV. But you might equally want to see it as a coupe, a luxury saloon or even some kind of sportscar. Designer Ian Callum isn't bothered either way. At 4,682mm in length, this model is 10mm longer than Jaguar's XE; it's bigger than the larger XF saloon too, with a 30mm longer wheelbase and 15mm of extra width. There's more of a cab-forward stance than you'd get in a conventionally-engined Jaguar but the silhouette looks very agile in profile. And it retains a traditional big grille, even though the three independent cooling systems (for the electric motors, the battery and the interior) don't really need it.
Inside, the cabin's very Jaguar-like, with big comfortable seats that come with faux-leather as standard and real hide at extra cost. You can even have wood trim if you want it. Ahead of the driver sits an all-digital instrument binnacle and the centre-dash infotainment layout is bespoke to the I-PACE too. As in the Range Rover Velar, it's a two-screen package, the upper part dealing with navigation, audio and 'phone functions and the lower part operating informational stuff you'll need less frequently. It's a comfortably five-seater and there's a decent 656-litre boot, with a further 27-litre compartment out-front.
Would you want one? Perhaps a better question is 'why wouldn't you want one?' To which we'll provide some obvious answers. Firstly, clearly there's the premium pricing to consider. And secondly, despite the great job Jaguar's engineers have clearly done with the handling dynamics of this car, there's no way an EV weighing around 2.2-tonnes can respond and ride quite like a conventionally-engined fossil-fuelled rival. But all the signs are that this one gets very close to that benchmark.
If you've been waiting for luxury EVs to get serious, your time may have come here. In the future, there will certainly be better battery-powered electric vehicles than the I-PACE, but we don't think that there are right at present. And we think that in future, experts will look back at this car as the one that made the EV concept properly credible for the premium buyer. Which makes it very significant indeed.