The Government has now published the draft Finance Bill for 2019-20 – and we don't really know anything after its publication that we didn't know before its publication. It enshrines the new Company Car Tax (CCT) rates that were first revealed in a separate document released on Tuesday, although there's not much else from a fleet perspective. We are still waiting, for example, for information about the proposed new system of Vehicle Excise Duty (VED) for vans.
But, as LeasePlan suggested, those CCT rates are still a big deal. Here's our explainer for them:
Explainer
To account for the higher carbon dioxide (CO2) scores that will result from the Worldwide Harmonised Light Vehicle Test Procedure (WLTP), the previously published CCT rates for 2020-21 will, for most cars registered after 6 April 2020, be reduced by 2 percentage points.
Cars with a zero-emission range of at least 130 miles will face a CCT rate of 0 per cent in 2020-21.
These rates will then be increased by 1 percentage point in 2021-22 and then another percentage point in 2022-23.
For most cars registered before 6 April 2020, CCT rates will not be reduced (from those previously published) in 2020-21. However, their rates will then be frozen for 2021-22 and 2022-23.
Existing Vehicle Excise Duty (VED) rates will be maintained from April 2020, but the Government will this year consult on "moving towards a more dynamic approach to VED which recognises smaller changes in CO2 emissions".
New rates
See the two tables setting out the new rates below: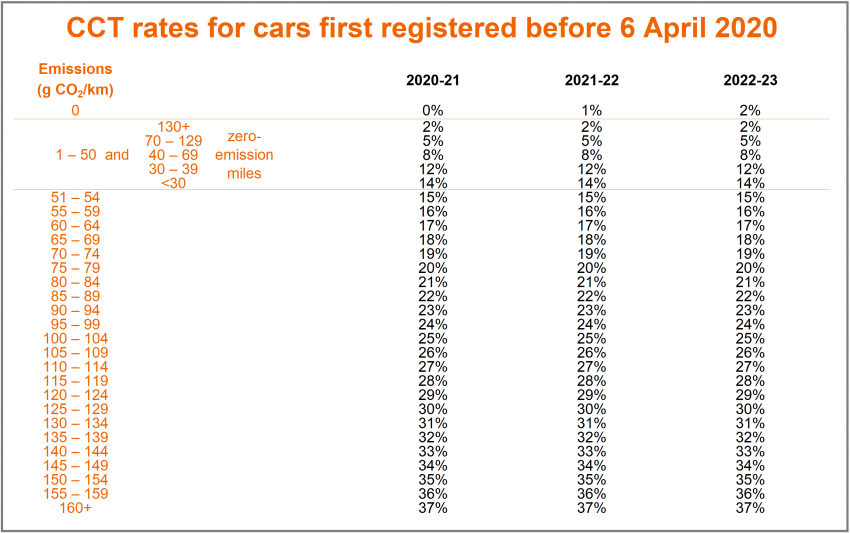 Find out more
If you want to find out more about the impact of the changes you can find all the latest information in our Online Company Car Tax Guide including;
A new section on the latest announcements for the outcome of the consultation.
An update to the benefit in kind (BiK) section showing the new rates announced.
Updates to the benefit in kind (BIK) calculator.
Alternatively please contact your LeasePlan Account Manager, or get in touch with a member of our expert team here.