What are they?
Ultra-low emission vehicles – or ULEVs – are those which emit less than 75g of carbon dioxide per kilometre. They come in various forms:
Hybrid: Powered by an internal combustion engine and electric motor.
Electric vehicle: A car or van which runs on an electric motor and battery that can be plugged in and charged.
Alternatively-fuelled vehicle: Any vehicle which doesn't use traditional fuels (petrol and diesel).
How popular are they?
The UK has seen a surge in ULEVs in the last three years. On average, 3,000 were registered every month during 2016. Electric car sales have now hit an all-time high with an estimated 90,000 plug-in vehicles on the country's roads. The Mitsubishi Outlander PHEV, Nissan Leaf and BMW i3 dominate sales top spots, with Renault's Zoe model and the Tesla Model S not far behind.
Despite these promising statistics, our recent study found 76% of UK motorists say they wouldn't opt for an electric vehicle. Why? Because ULEVs aren't suited to long distance trips. Yet 98% of drivers in Britain travel less than 100 miles each day, well within the capability of most electric vehicles.
Lesley Slater, Operations & Business Development Director LeasePlan UK:
The benefits of ULEVs are now so compelling that if individuals and businesses don't consider them, they risk missing out.
What are the benefits?
The government's keen to push electric vehicles and offers grants towards the cost of buying an electric car. These give you 35% off the purchase price, up to £4,500. If you're buying an electric van you get 20% off, up to a maximum of £8,000.
A 100% First-Year Allowance gives tax relief on business expenditure on charging points for electric vehicles until April 2019.
Currently, there are layers to company car tax, with those vehicles emitting 0-50 C02  g/km paying 7% and those in the 51-75 CO2 g/km bracket paying 11%. But the government is looking to introduce new company car tax bands for ULEVs from April 2020, with the cleanest vehicles being rewarded with further tax cuts.
In the 2016 Autumn Statement, £390 million was allocated to supporting ULEV schemes. Electric vehicles are also exempt from salary sacrifice tax changes.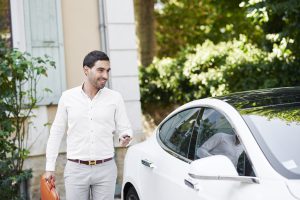 Why go electric now?
Advances in electric car technology mean ULEVs can better meet driving demands. The Tesla Model S has a range of between 200 and 350 miles, with most others not far behind, covering at least 100 miles before needing to be charged.
Lesley Slater, Operations & Business Development Director LeasePlan UK:
We know one of the biggest concerns among motorists and businesses is that the infrastructure for electric vehicles hasn't been reliable enough – but as of February 2017 more than 4,000 UK locations have installed public charging points.
Along with government incentives, adding ULEVs to your fleet offers plenty of other financial benefits. Electricity costs a fraction of fossil fuels, pure electric vehicles are currently exempt from vehicle tax, there's no bill for congestion charge and some towns and London boroughs are now charging premiums for diesel vehicles parking.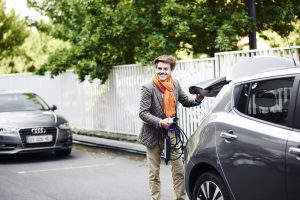 What does this mean for your fleet?
Quite simply,  low emission company cars and vans are becoming less expensive – and more practical.
Whether it's as a company car or a working van, the day of the ULEV is dawning. Green vehicles could save you money, improve efficiency and help you meet your sustainability objectives.
Want to know more?
If you want to find out more about the benefits of ULEVs, take a look at our latest whitepaper here. If you'd like more information on leasing electric vehicles, whether as an individual or business, just get in touch with our team.
---
Download our Ultra Low Emission Vehicles Workbook here.