LeasePlan Corporation N.V launches global car sharing service – SwopCar. 
SwopCar enables companies to share vehicles among employees on-demand, better meeting the mobility needs of their employees while helping optimise the company's spend on corporate and private vehicle mobility and improve its sustainability performance.
It aims to relieve fleet and mobility managers of the operational and administrative hassle of managing a fleet without dedicated drivers. The new service is based on LeasePlan's extensive experience in corporate car sharing, initially piloted in the Netherlands and Luxembourg. SwopCar will be deployed globally within the coming months.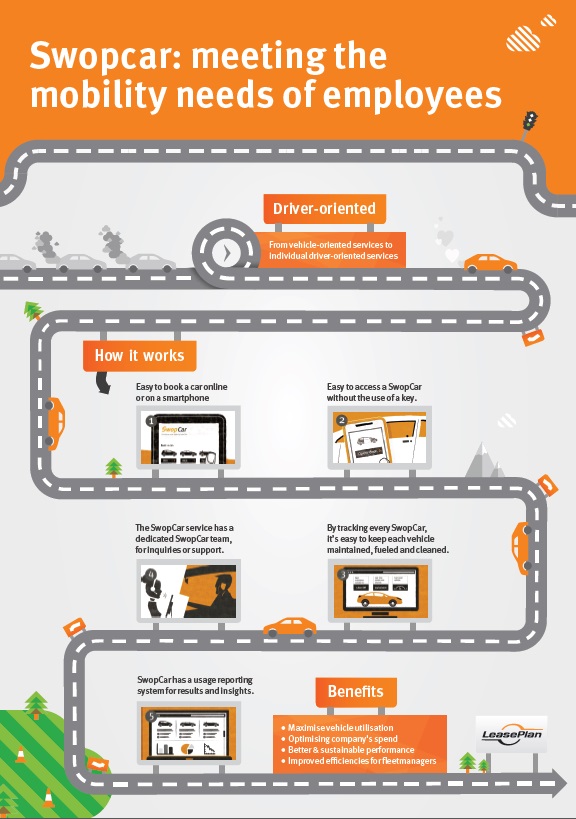 Growing demand for employee mobility solutions
Nick Salkeld, Chief Commercial Officer at LeasePlan, explains: "We developed the SwopCar service in order to meet the growing demand for driver mobility solutions beyond the traditional lease product. As a result of trends such as urbanisation, sharing, eco-awareness, mobile devices and connectivity, we foresee a shift from vehicle-oriented services to individual driver-oriented services. To stay ahead of these changes, LeasePlan has developed a mobility strategy which has resulted in, amongst other solutions, the SwopCar service. By allowing a company's employees to take and share a SwopCar when needed, this service maximises vehicle utilisation, reduces carbon emissions and considerably diminishes the need for parking spaces. The SwopCar service is a forward-looking, flexible solution which acknowledges the increased demand for smart mobility and multi-transport use."
Lesley Slater Business Development Director LeasePlan UK said:
"It's exciting to see LeasePlan globally launch SwopCar to meet the growing demand for driver mobility solutions. In the UK, car clubs will be a key part of the employee mobility strategy for our customers in all sectors and we will be looking to introduce this concept over the course of 2016"
Value for fleet managers
The LeasePlan SwopCar service addresses several challenges faced by fleet managers: the inefficiencies of finding out which car is available when, for how long and who will be or has been the user. The technology behind the service gives eligible employees access to an online reservation platform and smartphone app, so they can check vehicle availability and plan their trip accordingly. The entire reservation and vehicle access process is self-service and requires no assistance, enabling on-demand car sharing and better fleet utilisation. The cleaning, refuelling and maintenance are taken care of by LeasePlan's extensive network of service providers, relieving many of the fleet manager's concerns around car sharing.
The SwopCar service reduces mobility costs and offers fleet managers an accurate and transparent overview of vehicle usage, providing valuable insights into how and when employees need and utilise a SwopCar. Moreover, usage data can be directly used to calculate and pass on costs to the department or employee concerned.
By tracking every SwopCar, it is easy to keep each car maintained, refuelled and clean. Furthermore, fleet managers have no operational and administrative hassle with reservations, key management, vehicle status check and mileage reimbursements. The usage reporting system provides reports and car insights on CO2 emissions, helping address the growing need for increased corporate sustainability. In addition, it can add to a company's employee satisfaction.