The annual global LeasePlan MobilityMonitor, a large-scale study of nearly 4,000 drivers in 17 countries worldwide commissioned by LeasePlan, has uncovered interesting new insights on the future of corporate car use. According to the survey, 50% of drivers globally would feel comfortable driving with a telematics device in their car. Driving behaviour should improve as an increasing proportion of respondents worldwide indicate they would change their driving behaviour if telematics were installed in their vehicles. LeasePlan's 2015 MobilityMonitor also indicates a further increase in popularity of corporate car sharing as 13% of drivers worldwide show interest, compared to less than 10% in 2014.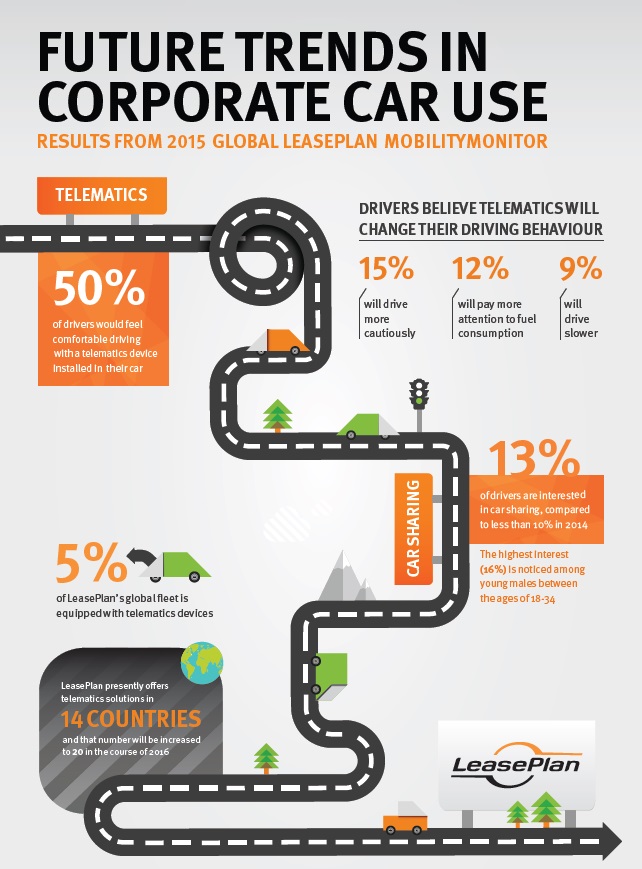 Telematics gains acceptance and drives road safety
Globally, 50% of the drivers surveyed would feel comfortable having a telematics device installed in their car while an increasing proportion of drivers (39% versus 35% in 2014) say having a telematics device installed would change their driving behaviour, from driving more cautiously (15% versus 9% in 2014), to paying more attention to fuel consumption (12%) and/or driving slower (9%).
"Telematics can drive a company's fleet efficiency," says Nick Salkeld, Chief Commercial Officer at LeasePlan: "Not only from an economic point of view, as increased safety and higher recovery rates of stolen cars will lead to reduced insurance claims, but also with respect to environmental compliance by means of a reduction of fuel consumption and car usage. The increase in driver acceptance, as demonstrated by this research, will help achieve these benefits".
LeasePlan presently offers telematics solutions in 14 countries, and that number will be increased to 20 in the course of 2016. Currently around 5% of its global fleet (passenger cars and Light Commercial Vehicles) is equipped with telematics devices. LeasePlan expects a substantial increase in the usage of telematics in the coming years as more and more fleet managers acknowledge the influence of behaviour in the areas of driver safety and fuel efficient driving.
Larger vote for car sharing among future workforce
The study also shows that interest in car sharing solutions among lease drivers is continuing to grow. One out of eight (13%) drivers is interested in corporate car sharing, preferring flexibility over having a dedicated lease car. This was less than 10% a year ago. The highest interest (16%) is noticed among young males between the ages of 18-34.
"We see increased interest in the concept of 'usage', which means that assets are shared rather than owned, and a tendency towards subscription-based products and services," says Nick Salkeld. "There is an increasing demand for sharing solutions especially among younger working professionals in large cities where parking costs and living expenses are high."
LeasePlan has piloted corporate car sharing in several countries and will start a gradual worldwide roll-out of this new service, under its SwopCar brand. Participants who want to reserve a car, log on to the car sharing system via an app, and receive a code to unlock and start the vehicle. It gives LeasePlan clients improved fleet efficiency, through higher utilisation and an improved overview of cost and usage. Furthermore, clients have no operational and administrative hassle with reservations, key management, vehicle status check and costs and mileage reimbursement. By tracking every car, it is easier to manage the maintenance, refuelling and availability of each vehicle.
Private leasing as additional labour condition
Finally, the MobilityMonitor identified that 50% of LeasePlan drivers have interest in private leasing as an additional labour condition, meaning they would like to lease a private vehicle and pay it out of their salary. Three out of 10 (29%) say they are interested in private leasing for a second car.
LeasePlan currently offers private leasing solutions in several countries, including the Netherlands and Belgium. Private lease drivers indicated that private leasing brings the benefits of a new car, without the worries that accompany car ownership, such as unexpected surprises in terms of maintenance and repair costs. Also, tyre changes, insurance, road tax and road side assistance are covered.
About LeasePlan MobilityMonitor
Accelerating economic, technological and social developments are shaping the future of mobility ─ and the vehicle leasing industry. LeasePlan aims to unlock valuable knowledge about global mobility throughout its network of companies in 32 countries worldwide. The LeasePlan MobilityMonitor makes it easier for fleet decision makers to stay up to date with key developments and make informed decisions concerning fleet management and driver mobility.
Infographic MobilityMonitor-global pdf