We recently noted that heavier vans are making up a larger and larger portion of the Light Commercial Vehicle market. And what a fine development this is, for these are the vans that are driving Britain's economic growth. But the graph below, showing MOT results from the Driver and Vehicle Standards Agency (DVSA), still ought to make us think through some of the other implications.
Failure Rates
Between April 2014 and March 2015, 616,126 goods vehicles weighing between 3,000 and 3,500kg took their MOT. 301,889 failed – a failure rate of 49 per cent.
That's significantly higher than the 38 per cent failure rate for cars and vans below 3,000kg, as well as the 34 per cent rate for large private passenger vehicles.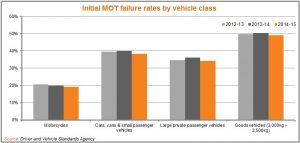 It's not a new trend. For the past three years, the failure rate for large vans has been around 50 per cent. Overall, between April 2012 and March 2015, 1,805,847 million heavy vans were tested and 896,844 failed. The Driver and Vehicle Standards Agency (DVSA) puts it down to 'a combination of the heavy use and a lack of attention to maintenance'.
Most common failures
What causes these vans to fail their MOTs? As our second graph shows, the most common faults are with lights and signaling: 30 per cent of heavy vans tested fail because of them. Next are brake problems (found on 22 per cent of vans tested), suspension defects (found on 16 per cent) and impairments to the driver's view of the road (found on 10 per cent).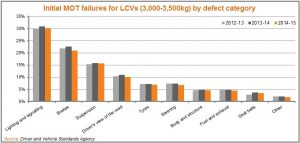 Heavy Vans
Around a fifth of those large vans failing their initial test – 60,235 of the 301,889 in 2014–15 – did manage to have their faults rectified at the MOT station and pass subsequently, reducing the final failure rate to a still-worryingly-high 39 per cent.
With more and more of these heavier vans hitting the roads, drivers and fleet managers must be mindful of the potential for faults and the need for good maintenance. The idea that one in five large vans has faulty brakes, for example, is a pretty troubling one.
The Vehicle and Operator Services Agency (VOSA) , forerunner to the DVSA, produced a handy guide to van use and maintenance, available here.
---
You may also be interested in: