What's changing?
From 1st July 2017 LeasePlan drivers should call the DriverLine for all scheduled services, routine maintenance and tyre requirements; rather than booking direct.
We understand that there will be a short period of transition and drivers will be referred to the DriverLine if making a booking directly with a servicing agent.
What are the benefits?
We have received some exceptional feedback from drivers based on the changes made in January 2016 to the LeasePlan Tyre network.
We're confident that by applying the same principles we can deliver an industry-leading service to you and your drivers, with the benefits starting to be felt immediately from this new way of working.
Benefits to you:
Servicing your vehicles through the DriverLine provides us with the visibility of all servicing requirements and enables us to direct bookings to the most convenient location within our approved network.
Having the visibility also allows us to manage vehicle downtime, ensuring vehicle off road time is kept to a minimum and helping drivers stay mobile to carry out their role.
Finally, our latest NPS driver survey scores show that current DriverLine users continue to highly value this enhanced process.
Benefits to your drivers:
 
Service & Repair
LeasePlan have full sight of all Servicing, Maintenance & Repairs and will work with our servicing network to proactively get your vehicles back on the road with minimal delay.
• We ensure that over 90%* of vehicles are returned the same day
• Proactive booking management ensures only servicing agents that deliver the best service for our drivers and in the most convenient locations receive work
• Swift booking confirmation with preferential lead times
• Convenient, free collection and delivery to minimise downtime
Tyre Replacement
UK wide capability and coverage – with over 1,500 outlets the DriverLine offers the following benefits:
• Mobile tyre fitting service
• Specialist commercial vehicle expertise
• Use of our best performing partners – based upon NPS survey scores and instant driver feedback
• We ensure drivers are directed to the right tyre provider with the right tyre, ensuring a speedy turnaround to get drivers back on the road
Letting your drivers know

We've put together a simple frequently asked questions (FAQ) document to help communicate the changes to your drivers – and you'll receive further communications regarding the changes over the coming weeks.
Download the DriverLine FAQ document here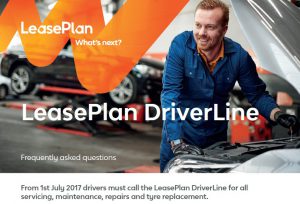 Any questions?
If you have any questions, you can speak to a member of our friendly DriverLine team,  alternatively please get in touch with your LeasePlan Account Manager who will be happy to help.