Over the past 12-months, LeasePlan UK has raised over £100,000 for the Help for Heroes charity. The effort comes as part of the fleet management company's overall corporate responsibility strategy. One of the main objectives of the strategy is to increase the amount of money raised and donated to charities.
LeasePlan UK's charity committee has organised sports challenges, cake and samosa sales, internal raffles and a family fun day at Sandhurst Memorial Park, which attracted over 3,000 visitors.
The biggest fundraising effort, which helped LeasePlan UK achieve more than its £100,000 target – was the LeasePlan UK and Help for Heroes industry charity dinner, a masquerade ball held at Ascot Racecourse on Friday 22 April.
Speaking about Help for Heroes and LeasePlan UK's fundraising, Matt Dyer, Managing Director at LeasePlan UK, comments:
"We are hugely proud to have supported Help for Heroes over the past 12 months with our fundraising efforts. It's a charity that is close to many of us within LeasePlan UK, so it's a great honour to be handing over more than £100,000.
"LeasePlan UK's Help for Heroes committee has worked extremely hard to organise all of the fundraising activities and events, each of which has contributed significantly to our overall total.
"We topped off a fantastic year of fundraising with the industry masquerade ball where many of our customers, colleagues, and friends and family partied the night away and dug deep to support a great charity.
"We hope the money we have raised as a business will assist the continuation of the fantastic work Help for Heroes is already doing."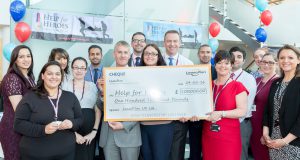 Eve-Lynn Ansley, chair of the LeasePlan UK organising committee, said:
"We're all so proud to have achieved such a significant sum for Help for Heroes. From the start, it was a charity everyone on the organising team felt very passionate about, and this spurred us on to raise even more than we imagined possible.
We're exceptionally grateful to all the colleagues and friends who've supported this great effort and we're delighted that over £100,000 will be going to H4H to make a real difference to the amazing work that they do."