Philip Hammond has abolished the Spring Budget. In its place, he will deliver a shorter Spring Statement on Tuesday 13th March. Here are some of the main things to look out for.
1. The big picture: GDP growth
The Chancellor says that his Spring Statement will be a much smaller affair than the Budgets and Autumn Statements we've grown used to. Nevertheless, the independent Office for Budget Responsibility (OBR) will still be publishing its full set of forecasts for the British economy. The headline figures will be those for annual GDP growth: how quickly does the OBR expect the economy to expand in the years ahead?
GDP growth has slowed significantly in the past three years: from 3.1% in 2014 to just 1.7% in 2017. And, in its last set of forecasts in November, the OBR predicted that growth would hover around the 1.5% mark for the next five years – well below its long-run average of 2.4%. Will this set of forecasts be any rosier?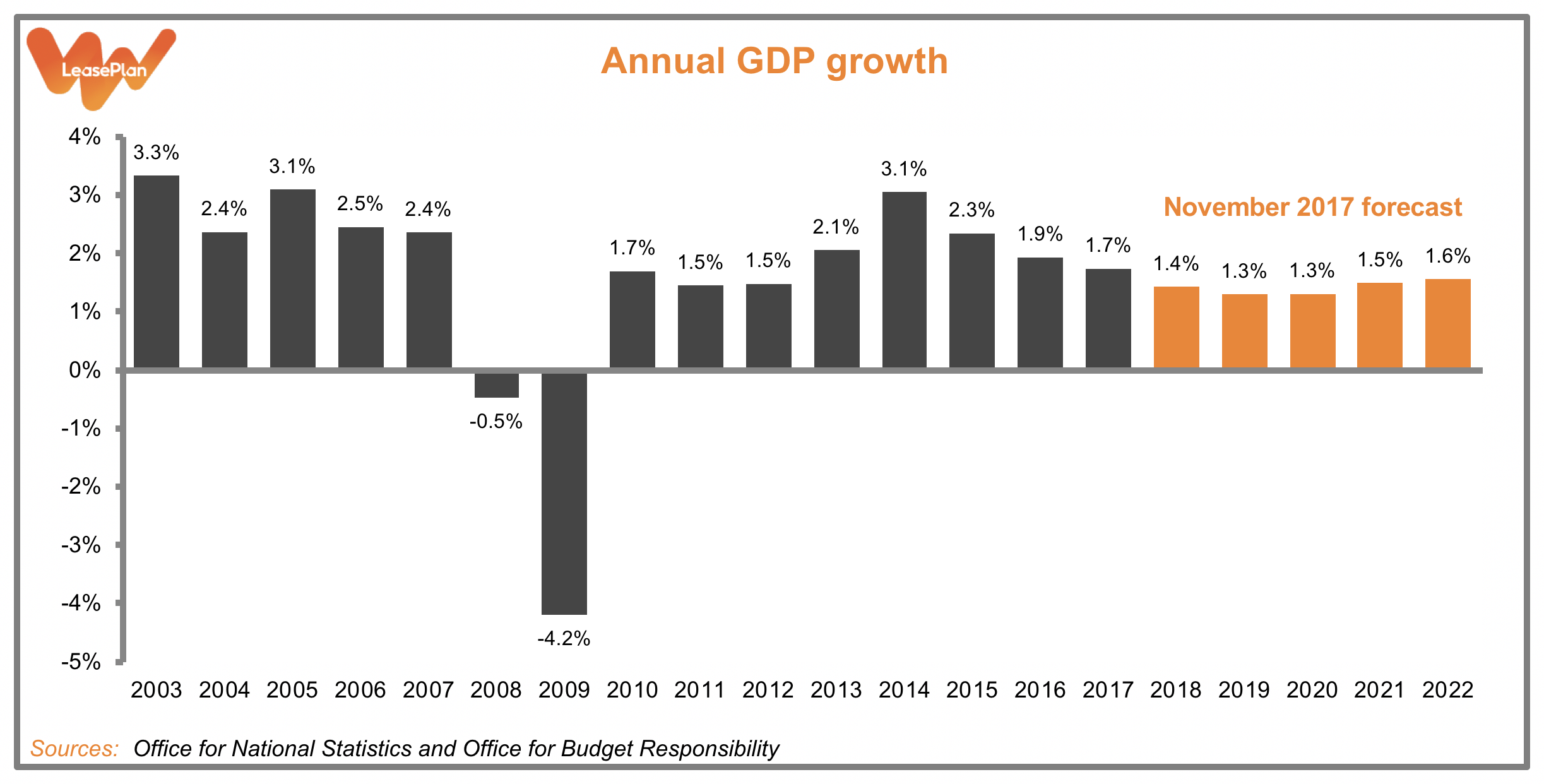 2. The deficit
Under the previous Chancellor, deficit reduction was the Treasury's principal goal. In light of Brexit, Hammond has relaxed that emphasis, abandoning George Osborne's fiscal rules and replacing them with less demanding ones. But government borrowing will still be a major focus of his Spring Statement – not least because the OBR is likely to offer some good news on that front.
As the graph below shows, the Government borrowed £45.8 billion in the financial year 2016-17. That's well down from the peak deficit of £153 billion in 2009-10, but still slightly above pre-recession levels.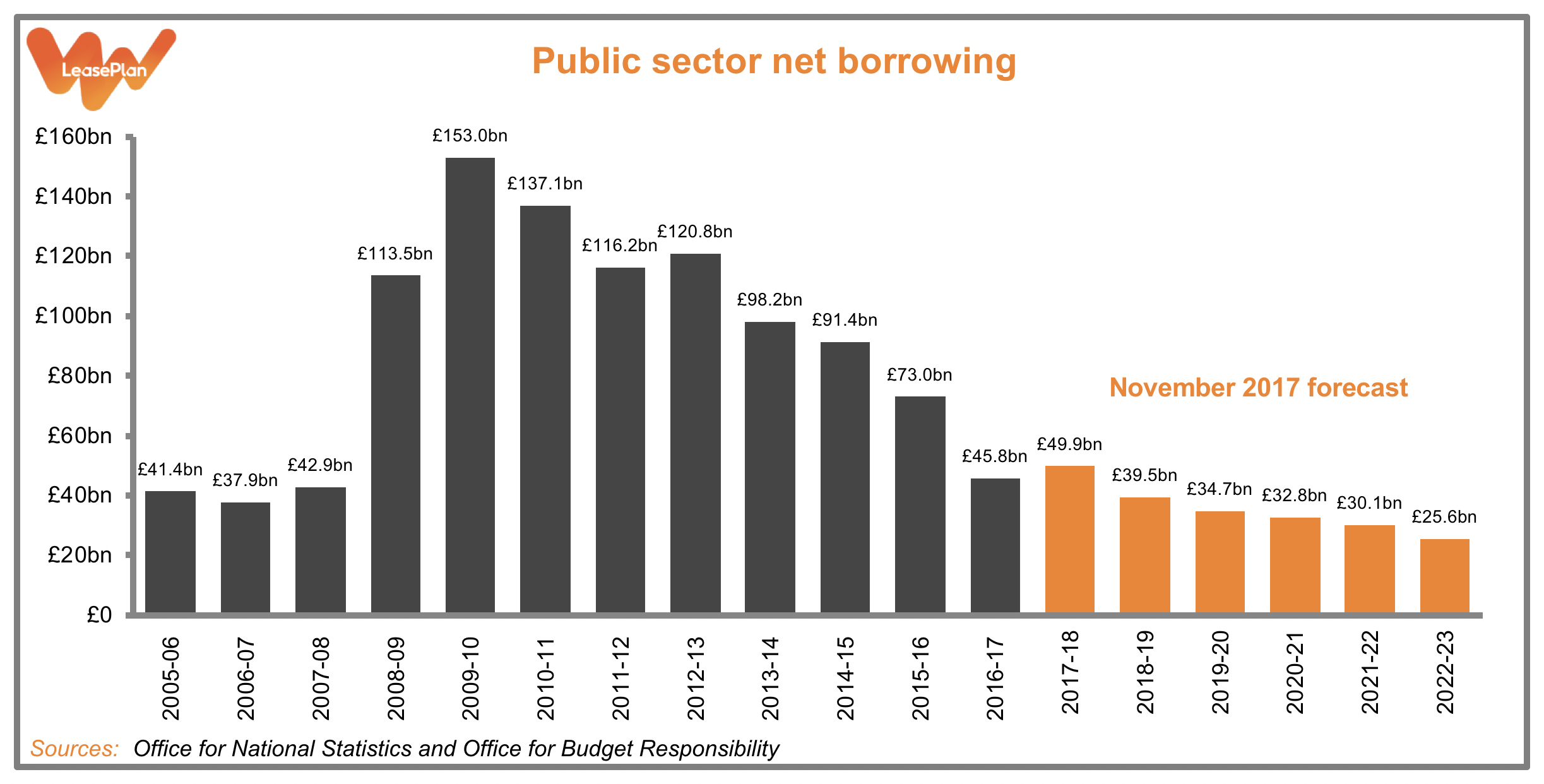 In November, the OBR forecast that borrowing would go up a little this year, to £49.9 billion. However, tax receipts since then have been stronger than expected, meaning that the 2017-18 deficit now looks likely to come in below last year's. If that is what the new forecasts show, the question will be whether Hammond chooses to spend more or cut taxes, or simply to celebrate this nugget of good news.
3. Inflation
Although the government's finances may be improving, household budgets continue to be squeezed by inflation. Over the past year, prices (as measured by the Consumer Prices Index) have gone up by 3%, while average earnings have risen by just 2.5%.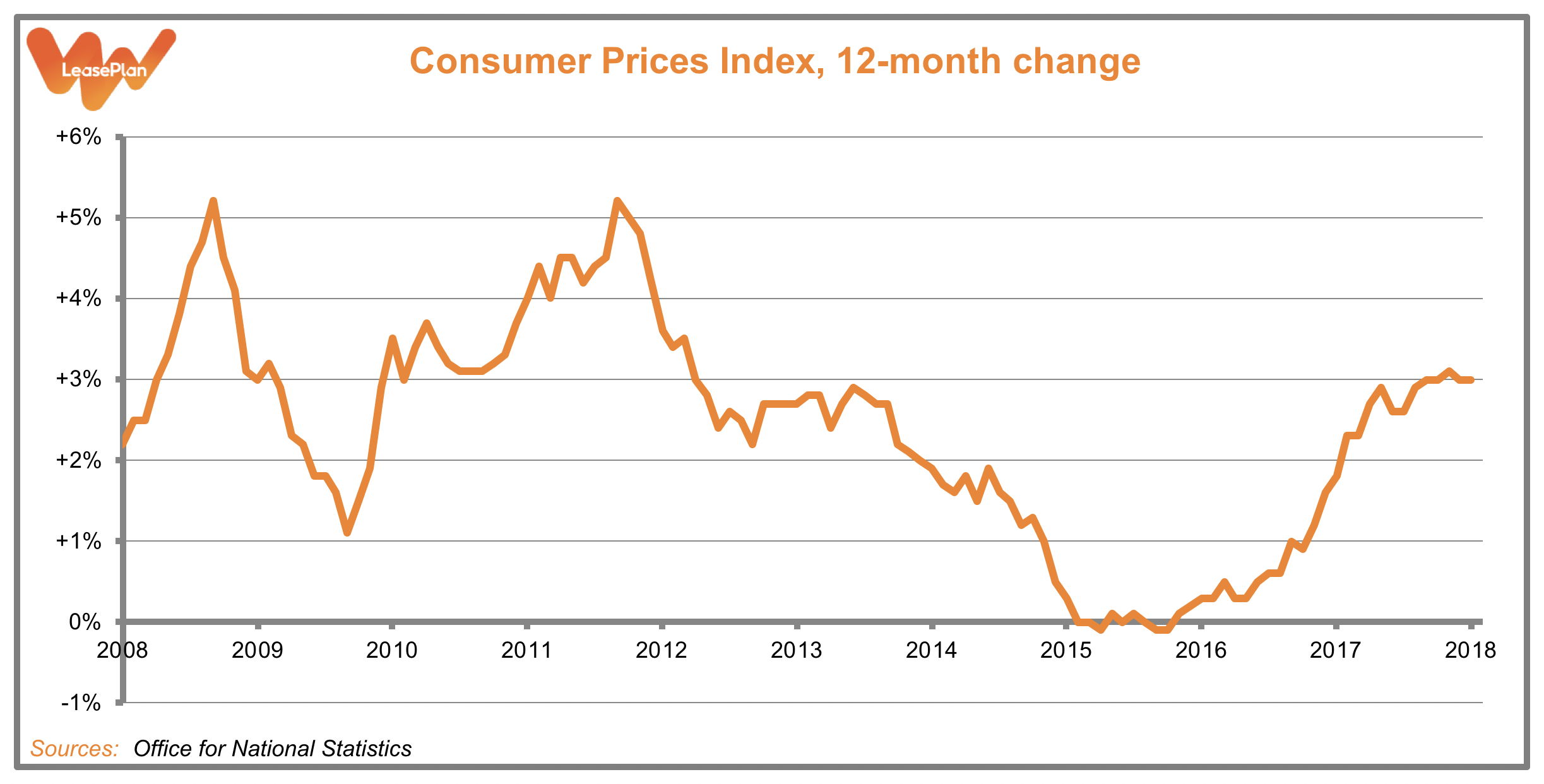 Fortunately for motorists, that high rate of inflation hasn't manifested itself in higher fuel costs. After rising dramatically in 2016, pump prices stayed relatively stable in 2017. A year ago, the average litre of petrol cost 120.1 pence. Now, it's 119.6p. Still, we'll all be hoping that the OBR predicts lower inflation in the years ahead.
4. Company Car Tax
The Chancellor has said that he will not announce any big policy changes in his Spring Statement – those will come in his Autumn Budget later in the year. However, there is one urgent matter that cannot wait until the autumn: setting the Company Car Tax (CCT) rates for 2021-22, and preferably for 2022-23 as well.
After much delay, the CCT rates for 2020-21 were finally written into law in November, when the Finance (No. 2) Act 2017 received royal assent. Ahead of last year's Autumn Budget, we called on the Chancellor to reveal the rates for the next two years, but he failed to do so. With many fleets and employees entering into 48-month leases that will stretch into those years, we need to know these rates as soon as possible.
5. Electric vehicle infrastructure
Hammond has made room in each of his two Budgets and one Autumn Statement for extra investment in electric vehicles. Will he do the same in his first Spring Statement?
One area where more investment would be particularly welcome is in the infrastructure needed to charge electric vehicles. The Financial Times recently reported that National Grid is conducting 'scenario planning' for a big new network of superfast chargepoints at 50 locations along Britain's motorways. This is exactly the sort of investment that the Government needs to make to alleviate 'range anxiety' and make electric driving a realistic option for every motorist.
As the details of the economic forecasts start to take shape follow @LeasePlanUK on Twitter for up-to-the minute commentary with full coverage on insights.leaseplan.co.uk