As we noted in our Autumn Statement Briefing document [1] the recent Autumn Statement didn't actually contain all of the new Company Car Tax (CCT) rates that it proposed for 2020-21. It described the new system that will be in place from April 2020, without giving us all the detail.
The new rates have been officially revealed in the draft Finance Bill 2017 [2] that will now wind its way through Parliament. We've summarised them in the table below: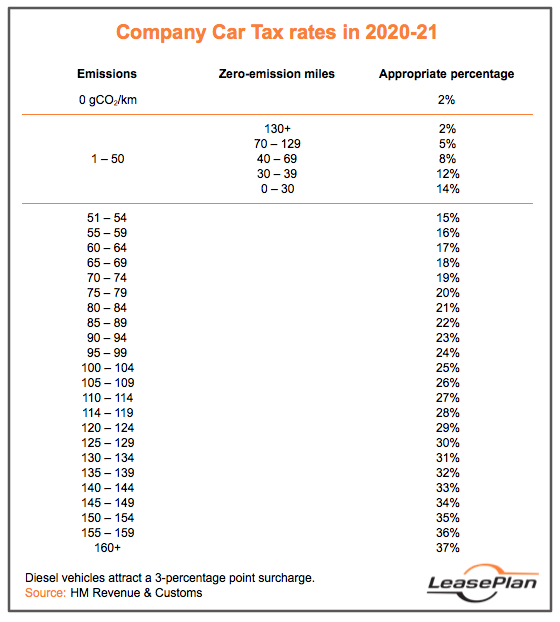 The first thing to note is that these new rates mark a change from the CCT system that's currently in place. They have been proposed by the Government following a consultation aimed at making Ultra Low Emission Vehicles (ULEVs) more attractive for company car drivers. The summary of responses [3] to the consultation noted that 'a number of stakeholders have pointed out that the current ULEV bands are too broad, and do not distinguish between different types of ULEVs…'
The new system will see the introduction of various new bands for ULEVs which means;  
In 2020-21, the appropriate percentage for zero emission cars will be 0%,
For those with CO2 emissions of between 1g/km and 50g/km the rate will vary from 2% to 14%, based on the number of zero emission miles that the vehicle can travel,
Whilst those with emissions between 51g/km and 74g/km will occupy bands that vary from 15% to 19%.
What does this mean? In short, that ULEVs will become more economical. Every single company car with CO2 emissions of below 75g/km will face lower – or, at worst, the same – rates than they did in 2019-20. Meanwhile, the rates for those with emissions over 90g/km will all increase by 1 percentage point, to a maximum of 37%.
As so, when it comes to CCT, as well as other areas, [4] there are now more incentives to considers ULEVs. The Government's policy is going greener – perhaps fleet policies should too.
---
For further information please speak to your LeasePlan Account Manager or a member of the LeasePlan Consultancy Services team on:
Tel:  0344 371 8032
Email: consultancyservices@leaseplan.co.uk
You may also be interested in: 7 Reasons to start leasing ULEV's
Sources:
1. https://insights.leaseplan.co.uk/wp-content/uploads/2016/11/LeasePlanUKAutumnStatementBriefing2016.pdf
2.https://www.gov.uk/government/publications/finance-bill-2017-draft-legislation-overview-documents/overview-of-legislation-in-draft
3. https://www.gov.uk/government/uploads/system/uploads/attachment_data/file/574070/CCT_summary_of_responses_final_web.pdf
4. https://insights.leaseplan.co.uk/future-proof-your-fleet/