London
To help combat air pollution, almost all of Greater London was made into a Low Emission Zone in 2008. Vans and lorries that do not meet the required emission standards must pay £100 and £200 respectively for each day they drive within it.
A new Ultra-Low Emission Zone (ULEZ), with tighter emission standards, was planned for 2020, with the goal of halving Nitrous Oxides (NOx) emissions in Central London. However, new London Mayor Sadiq Khan intends to introduce it a year earlier, in 2019.
Under current plans, the ULEZ will cover just the centre of London – the same area as the Congestion Charge Zone, and much smaller than the existing Low Emission Zone. Mayor Khan plans to extend this, though, to cover Inner London (between the North and South Circular roads) for cars, vans and motorcycles, and to the whole of Greater London for coaches and lorries.
Once the ULEZ comes into effect, cars and vans that do not meet its emission standards will have to pay £12.50 a day to drive through it, while larger vehicles will face a £100-a-day charge.
To start tackling pollution before then, Khan is proposing an Emissions Surcharge – or 'T-charge' – of £10 per day for the most polluting cars entering the Congestion Charge Zone. This is due to run from October 2017 until the ULEZ begins in 2019.
Transport for London is currently consulting on Khan's plans to bring forward the introduction of the ULEZ and expand it beyond Central London, as well as on the T-charge. You can find out more and respond to the consultation here.
Elsewhere
With Government support, other cities are beginning to introduce policies that will benefit drivers of electric cars. Bristol, Milton Keynes, Nottingham and Derby have all received Government grants to help them implement such policies and become 'Go Ultra Low Cities'.
Bristol is allowing ultra-low emission vehicles (ULEVs) to use the city's carpool lanes, as well as letting Bristolians lease a ULEV for up to four weeks so they can try before they buy.
Milton Keynes has introduced a 'Green Parking Permit,' which lets drivers park their electric cars for free in any of 15,000 bays. The city will also soon have more charging points, as well as an 'experience centre' to give residents the chance to learn about electric cars and test them out.
Nottinghamshire and Derby are opening up bus lanes to ULEVs, offering discounted parking and installing 230 more charge points. They will also encourage local businesses to go green with a support programme that will let them try out ULEVs.
Plug-in car grant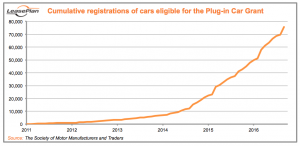 In 2011, the Government introduced grants towards the cost of plug-in electric cars and vans. The Plug-in Car Grant currently gives purchasers 35 per cent off the cost of the car, up to a maximum of £2,500 for most ULEVs and £4,500 for those that can run with zero emissions for 70 miles or more. The Plug-in Van Grant offers buyers 20 per cent off the price tag, up to a maximum of £8,000.
In March, the Government said it would maintain the grants at these levels until March 2017, or until a certain number had been awarded – whichever comes first. It remains to be seen whether the grants will be extended beyond that, though perhaps we will learn more in Philip Hammond's first Autumn Statement next month.
Whatever its future, the Plug-in Car Grant appears to have be having an effect in the present. The above graph, constructed from SMMT data, shows the number of cars that have been registered since 2011. By the end of September, the total was 75,647.
It's all part of an ongoing trend in favour of greener vehicles – a trend that we also highlighted in the previous posts in this series.