The government released its Air Quality Plan in July, suggesting potential ways to reduce diesel emissions and announcing that the sale of petrol and diesel cars is to be banned by 2040.
There's now the prospect of emissions surcharges, extra parking fees and a hike in diesel tax, alongside a nod towards a potential scrappage scheme to encourage motorists to move to cleaner vehicles. Is the writing on the wall for the once much-coveted diesel vehicle?
How diesel changes will impact fleets
While change is on the horizon, it's not yet known how quickly it will happen. We'll have to wait for the Chancellor's Autumn Budget to get a clearer picture. However, it's safe to say that in the coming years, fleet managers are going to have some big decisions to make.
Company car drivers have already been dealt a three-percentage point diesel supplement and London's 'T-Charge' will have an impact on drivers of older vehicles. The industry is starting to feel the repercussions of these ripples, while some manufacturers have already decided that they will stop producing diesel – and petrol models totally.
The future of diesel
In our latest whitepaper, we've summarised what the landscape currently looks like for diesel and discussed what may be coming next. We take a look at:
Fluctuating diesel prices and how they compare to their petrol counterpart
The start of the decline in the registration of new diesel vehicles
Recent politics and policies
The plan for Clean Air Zones by 2019
The rapid growth of electric and hybrid vehicles
What the think tanks and pressure groups have to say
As the move towards greener alternatives gathers pace, how much longevity do traditional fuel have? Download our whitepaper to find out more about the future of diesel.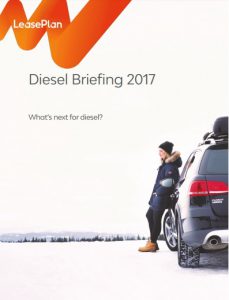 To find out more about how LeasePlan can help you with your fuel strategy, get in touch with our expert team today. Simply call us on 0344 493 5840 or fill out our online form