One of these initiatives – and one we'll hear a lot about during the next few years – is the Clean Air Zone (CAZ). Here's our guide so that you know what to expect.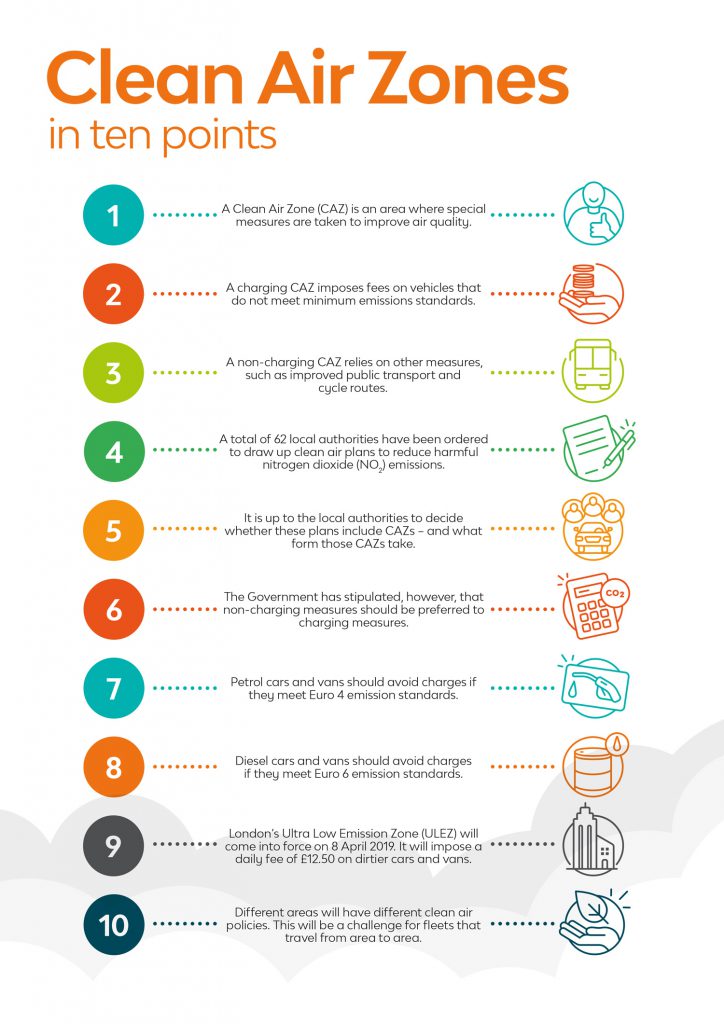 What is a Clean Air Zone?
Simply put, a Clean Air Zone (CAZ) is an area where special measures are taken to improve air quality. Various local authorities will be introducing CAZs over the next few years.
That's it?
No. There are actually two types of CAZ:
Charging CAZ. This type of CAZ imposes a fee on any vehicles passing through it that do not meet minimum emission standards.
Non-charging CAZ. This type of CAZ does not impose fees on vehicles passing through it. Instead, it relies on other measures to improve air quality. Examples of such measures – as suggested by the Government's Clean Air Zone Framework – are improved public transport links, refined road layouts, and more cycle lanes.
It should be noted that charging CAZs can also contain non-charging elements.  
Why are they being introduced?
In 2010, the UK signed up to a number of limits on air pollution – including limits on harmful nitrogen dioxide (NO2) emissions. At the same time, the Government committed to publishing Air Quality Plans whenever those limits are breached.
The limits for NO2 have been breached in every year since their introduction – and so, after a series of legal challenges, the Government has had to publish several Air Quality Plans. The latest of these, which was released in 2017, directed 29 of the most polluted local authorities to draw up their own plans for reducing NO2, which could include the introduction of CAZs.
After another legal challenge in 2018, a further 33 local authorities received the same directive.
Many of these local authorities were told to reveal their clean air plans by the end of 2018. Once those plans have been approved, which generally happens after a process of consultation with local populations and with national politicians, they can then be funded and implemented. It is expected that most CAZs will be introduced in 2020 and 2021.
Who decides on the parameters of a CAZ?
The Government's Air Quality Plan leaves the responsibility to councillors. So long as a local authority's clean air plan does enough to reduce NO2 as quickly as possible, then it is up to the local authority to decide whether that plan includes a CAZ; whether that CAZ is charging or non-charging; the boundaries of that CAZ; and the policies that apply within it.
The Air Quality Plan does place some constraints on councils, however – including its stipulation that a charging CAZ should only be introduced if non-charging measures will not, by themselves, reduce air pollution swiftly enough.
All of this means that different areas will have different clean air policies. Some will have charging CAZs, others will not. Some will charge less, others will charge more. Some will operate for 24 hours a day, others will be time limited. Knowing and meeting these conditions will be a particular challenge for fleets that travel from area to area.
Which vehicles will be affected?
Again, it is up to local authorities to decide which vehicles – if any – will be charged within a CAZ. However, the Government has provided some guidance. The Air Quality Plan describes four classes of CAZ, depending on the vehicles that are charged within them:
The four classes of charging Clean Air Zone
Class                      Vehicles potentially included
A                       Buses, coaches, taxis, private hire vehicles
B                       Class A and HGVs
C                       Class A + Class B + large vans, minibuses, small vans
D                       Class A + Class B + Class C + cars, motorcycles, mopeds
Source: Department for Environment, Food and Rural Affairs; Department for Transport (DfT)
The Clean Air Zone Framework also recommends the minimum emission standards that should apply within a CAZ, although it notes that 'these minimum standards represent a good starting point but should not limit ambition'. Vehicles that meet these standards should avoid charges:
Charging Clean Air Zone minimum emission standards
Vehicle type                                                        Minimum emission standards
Buses and coaches                                   Euro VI
HGVs                                                            Euro VI
Vans                                                             Euro 6 (diesel) or Euro 4 (petrol)
Cars                                                              Euro 6 (diesel) or Euro 4 (petrol)
Motorcycles and mopeds                       Euro 3
Source: Department for Environment, Food and Rural Affairs; Department for Transport (DfT)
 Are any CAZs in operation already?
London has effectively been operating a CAZ for over a decade, even if it does not go by that name. The capital's Low Emission Zone (LEZ) has imposed a fee on older, dirtier vans and lorries since 2008.
And London is already doing more. Back in October 2017, the city's Mayor, Sadiq Kahn, introduced a special 'T-charge' for cars and other vehicles that do not meet minimum emission standards. On 8 April 2019, that charge will be replaced by a full-blown Ultra-Low Emission Zone (ULEZ). Non-compliant cars and vans will have to pay £12.50 a day to drive within the ULEZ, while buses, coaches and HGVs that do not meet the emission standards will face a £100-a-day fee.
For more information about London's forthcoming ULEZ, please read our online guide.
Which other areas are planning to introduce CAZs?
A number of local authorities have signalled their intention to introduce CAZs. Leeds and Birmingham will be first outside London and both will be charging CAZs.
Leeds
Leeds' CAZ will not impose fees on private cars and vans, but non-compliant HGVs, buses, coaches will pay £50/day, taxis and private hire vehicles £12.50/day.
Birmingham
Birmingham's CAZ  will impose an £8/day charge on all non-compliant cars, taxis, and LGVs. Non-compliant HGVs, coaches and buses will pay £50/day.
Both Leeds and Birmingham CAZs were due to go live in January 2020, but have recently been delayed to mid-2020.
Manchester
Manchester is planning to introduce a £100/day charging CAZ for non-compliant HGVs in 2021 – expanding to £7.50/day for non-compliant vans, minibuses, motorhomes and motorised horseboxes in 2023.
Bath
Bath is planning to introduce a charging CAZ in late 2020, which exempts cars.
Sheffield
Sheffield  is also planning to introduce a charging CAZ in late 2020, which exempts cars.
Bristol
Other local authorities such as Bristol, are still deciding between different options of charging CAZ.
Southampton & Derby
Southampton and Derby, which were originally expected to introduce charging CAZs are now planning non-charging CAZs.
Glasgow
In Glasgow a LEZ currently applying only to local service buses is set to be extended to all vehicles by the end of 2022, effectively banning non-compliant vehicles.
Oxford
Oxford City Council probably has the most radical intentions of all. It proposes to turn the city centre into a Zero Emission Zone (ZEZ) from 2020 onwards. At first, in the Council's own words, 'a ZEZ could apply to some vehicles and journey types, with restrictions increased gradually to all vehicles in the following years to create a largely transport emissions-free city centre by 2035.'
Newcastle and Gateshead
Newcastle and Gateshead propose introducing a charging CAZ and LEZ for high emission vehicles in 2021. Cars initially exempt.
Portsmouth
Portsmouth proposes introducing a Class B charging CAZ (date TBC). Non-compliant buses, coaches, taxis, private hire and HGVs would pay up to £20/day. Cars exempt.
Other areas
Other areas where CAZs (of various types) are likely to be introduced include:
Liverpool
Cambridge
Edinburgh, Dundee and Aberdeen
St Albans
Warrington
Wokingham
Basildon, Canterbury, Cardiff, Exeter and Nottingham have all ruled out a CAZ.
This list will be updated as more information becomes available.
Further information
For more information and guidance on Clean Air Zones and operating vehicles in the Ultra Low Emission Zone (ULEZ) please speak to your LeasePlan Account Manager. If you're not yet a LeasePlan customer, please call  01753 802448 or email newbusiness@leaseplan.co.uk