As a fleet supplier to NHS Blood and Transplant we were told about their campaign "The Wait" which is a story about one man's long wait for a kidney transplant. The short film  has been shown in cinemas and broadcast into living rooms across the country throughout December and January –  but in case you missed it you can watch it here.
The campaign struck a chord with me  personally, as a close friend's son sight was saved by the life giving generosity of an organ donor.  
As a happy, healthy 21 year old Ben discovered that his vision was rapidly deteriorating and within 12 months of the diagnosis his vision had been so seriously impacted that we was unable to drive and required special arrangements for his final exams at University.
Thankfully, due to the generosity of an unknown donor Ben was able to receive a corneal transplant. Now, six months on, his vision is improving again and he hopes to be able to get behind the wheel of a car very soon.
The reason why we are getting behind this campaign and the work of NHS Blood & Transplant is that, as a supplier of a company car, who manages your road tax (among other things) we realised that you're missing out on seeing all the other prompts that every day motorists see about organ donation, say for example, when they renew their car tax online or declare their car off road on Gov.uk.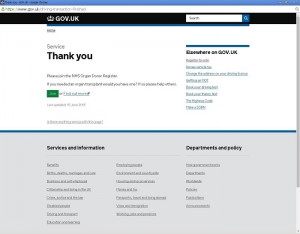 And it's for this reason that we are looking to introduce more prompts about the work of NHS Blood & Transplant (including adding a card in every driver pack).
But, the reality is, you don't need a piece of paper sign up – you can find out more and register here http://bit.ly/1H07YCe any time of day or night.