Where we were
Between March and June, it felt like everything changed. Far too much happened to cover everything in a short article, but a few of the key developments for our industry were:
People staying at home – essential driving only
Physical car auctions closed
Dealerships closed
Many garages closed
MOTs delayed six months
Factories closed around the world
ULEZ and congestion charge suspended
Speed awareness courses cancelled
LeasePlan stayed open by having everyone work from home and that meant we could keep a lot of essential workers moving all within a limited network.
Where we are
So, that's where we were. But where are we now? Well if you read the headlines, we're in a country that is coming out of lockdown too soon and too late, where it shouldn't be business as usual for months (maybe years) or should be business as usual straight away.
Without getting into the politics of it all, things aren't very clear. So, it's understandable if people are confused. We've picked out a few questions that drivers and fleet managers might have in our graphic.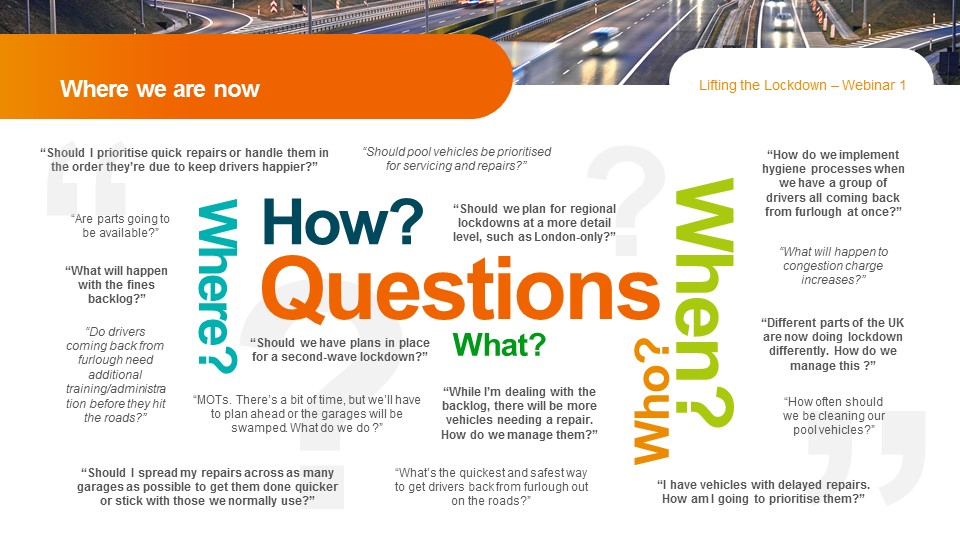 By the time you're reading this, it's possible that some have been answered – and it's likely that others haven't been.
Where we're going
While there are lots of small questions, there's also one big one: where do we go from here?
We've learnt a lot from our colleagues around the world and that has helped us make plans for the UK. Here are some of the areas we're currently thinking about:
For drivers, there's likely to be a rise in homeworking but also more use of personal cars given restrictions on public transport. Overall, there's likely to be lower demand for new vehicles, at least in the short term, but this position could change.
For manufacturers, we're looking at longer lead times on all vehicle orders, as well as potential shortages of spare parts, which could hit servicing and maintenance. There could also be price rises to reflect increased production costs caused by workplace social distancing requirements.
From a Government perspective, it's hard to say for sure what will happen next, but there seems to be a clear interest in encouraging greener transport. There are incentives to buy or lease electric vehicles and greater investment in infrastructure for these vehicles, and for bicycles as well.
Finally, from a company perspective, there will need to be new processes to keep vehicles clean and safe, alongside new policies for vehicle occupancy and use. For some companies, this could lead to a need for more vehicles, while others may find they can get by with less, as annual mileages drop significantly with fewer people commuting or driving to face-to-face meetings.
Discover more in the webinar
For an expert perspective on this topic, including more insights from LeasePlan operations around the world, you can watch the webinar or listen to the audio on our podcast with Mike Belcher, Corporate Sales Director, and Jessica Chapman, Head of Strategic Partnerships.
Lifting the lockdown webinar series
Sign up to watch our live and on-demand webinars, which will give you insights and practical guidance from our expert team here.