2021 EV Readiness Index
LeasePlan's 2021 EV Readiness Index – a comprehensive analysis of the preparedness of 22 European countries for the electric vehicle revolution – revealed that the UK remains one of the top three best prepared European countries for the EV revolution, behind only Norway and The Netherlands. The Index is based on three factors: EV registrations, the maturity of EV infrastructure, and government incentives in each country.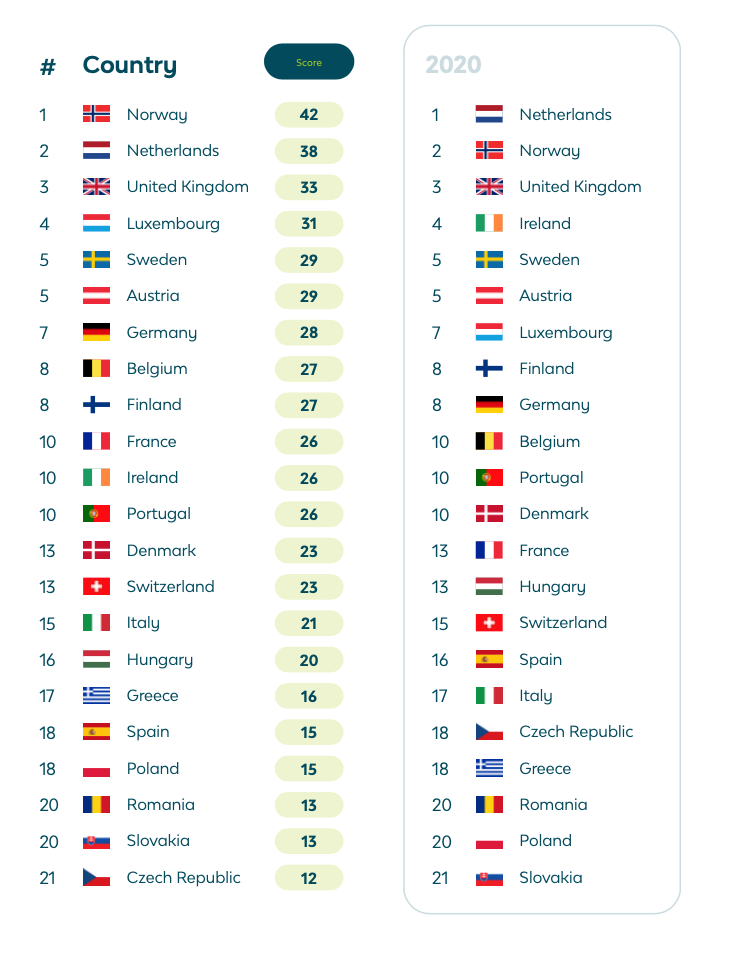 UK leading the charge
The UK is one of the few leading the charge when it comes to total cost of ownership. Thanks to government incentives like 0% Benefit-in-Kind tax, the UK scored 'good' or 'excellent' across the board.
Rate of improvement slowing
However, despite some progress being made in 2020 on charging infrastructure, the rate of improvement actually dropped across Europe compared to last year (43% increase rate in 2020 compared to 73% increase in 2019). Plus, looking at public chargers relative to population, the UK sits in 10th place behind leading countries such as The Netherlands, Norway, Luxembourg, and Sweden.
"It's great to see the UK ranking as one of the top three countries in Europe for EV readiness, but that doesn't mean we don't still have a long way to go. A lack of charging infrastructure continues to be a real barrier to adoption, particularly in rural areas. The UK needs to address this and deliver on a strategy that takes the entire population into consideration, otherwise we risk falling behind. Now is the time to make a difference, and it needs to happen fast. We've seen the positive impact of cleaner roads and less emissions during the pandemic, so let's keep going and ensure these learnings weren't in vain. The pressure is on for leaders within businesses and the government alike to accelerate EV adoption – a giant step in helping to save our planet."

Alfonso Martinez, Managing Director of LeasePlan UK
Increase across continent
Most nations saw vast improvement in their score this year, but the rate of which varies significantly across the continent, with Romania, Slovakia and the Czech Republic having both the lowest scores and the slowest improvement rate. This underlines the continued disparity between Western and Eastern Europe in terms of EV readiness.
What's next in EV's report
The EV Readiness Index 2021 is published as part of LeasePlan's new 'What's next in EVs' report. The report provides detailed insights into the latest trends, models and technology that will shape the EV industry in 2021, as well as in-depth analysis on the EV readiness of each country.
Discover more on demand
Watch 'What's next in EVs' webinar on demand with Robert Llewellyn of Fully Charged as well as LeasePlan's Chief Commercial Officer, Berno Kleinherenbrink. You can access the webinar on the LeasePlan website
---
Notes to Editors
The EV Readiness Index 2021 is:
LeasePlan is at the forefront of the clean mobility revolution: in 2020, the company saw its EV registrations double. Last year, EVs made up 15.9% of LeasePlan's newly ordered lease vehicles (which far outpaces the market in every Index country)
LeasePlan has committed itself to achieving net zero emissions from its total fleet by 2030. LeasePlan is also a founding partner of The Climate Group's EV100 initiative, a global business initiative designed to fast-track the uptake of EVs and infrastructure among the world's leading corporations
Media contact
Jamie Wilson / Beth Howard at BOTTLE PR
Tel – 01865 770381
Email – leaseplan@wearebottle.com
About LeasePlan
LeasePlan is a leader in two large and growing markets: Car-as-a-Service for new cars, through its LeasePlan business, and the high-quality three-to-four-year-old used car market, through its CarNext.com business. LeasePlan's Car-as-a-Service business purchases, funds and manages new vehicles for its customers, providing a complete end-to-end service for a typical contract duration of three to four years. CarNext.com is a pan-European digital marketplace for high-quality used cars seamlessly delivering any car, anytime, anywhere and is supplied with vehicles from LeasePlan's own fleet as well as third-party partners. LeasePlan has more than 1.9 million vehicles under management in over 30 countries. With over 50 years' experience, LeasePlan's mission is to provide what's next in sustainable mobility so our customers can focus on what's next for them. Find out more at www.leaseplan.com/corporate.