It might not feel like it, as you sit in front of your computer screen, but we are tantalisingly close to Brittany's rugged coastline, the peaks of the Alps and the sun-soaked shores of the Mediterranean. But how do we get to them? For 4.2 million Britons, the answer is simple: drive. That's the number who take their cars into Europe each year.
This, of course, means going across (or under) the Channel – and then into France, our gateway to the wider Continent. Even for a seasoned driver, the French roads can throw up a number of challenges. Here's our guide to make sure that you don't get caught out:
Before you leave
If you have a lease car, you will need to obtain a VE103 form and an authority letter from the registered keeper of the vehicle. That way, the authorities know that you're actually allowed to drive the car, which is probably for the best.
It's also worth calling your breakdown provider to check you have European Insurance Cover. Otherwise, repatriation of a vehicle can end up costing more than the holiday itself.
And to avoid breaking down in the first place, consider putting your car in for a service before you head off – particularly if it's due one anyway. Not many Brits will be confident asking for a shock absorber bounce test in French, Spanish or German.
Getting around
Let's just assume that you'll find a way through the labyrinthine blockades at Calais. Then what? The wisest course is generally the one that avoids the autoroutes, and instead takes the smaller N and D roads. Not only are these usually much more scenic, they also bypass the tolls.
The latest laws
Perhaps the biggest challenge, though, is getting your head around France's very particular driving laws. Did you know, for instance, that you shouldn't snack en route? Anyone caught feasting on a croissant or baguette (or any other food) whilst driving could be hit with an on-the-spot fine of up to £50.
This is typical of French efforts to improve the concentration of drivers. Thanks to recent legislation, it's now illegal to put on make-up whilst behind the wheel, or to have headphones in.
Thankfully, you are still permitted to listen to music from your speakers – provided that it isn't 'excessively loud'. That Daft Punk album will have to be turned down if you want to avoid another fine.
And the new rules keep on coming. It is now also illegal to smoke your Gauloises Blondes in a car, when a child aged 12 or under is present. The next service station won't help your nicotine cravings either. They count as communal areas, so you can't light up.
What about the kids?
Aside from the whole smoking thing, there's more to consider when travelling with children in France. Basically, your little darlings need to be properly restrained.
First of all, it's the responsibility of the driver to ensure that all passengers aged under 18 are wearing a seatbelt or some other appropriate restraint.
Second, if your younger passengers are aged under 10, they have to travel in an approved child seat or restraint. This is determined less by their height – as it is in the UK – and more by their weight. The RAC has come up with a useful table, which we've pasted here: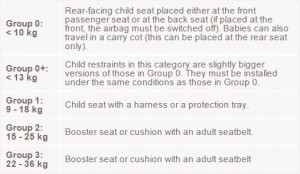 Those aged under 10 cannot travel in the front seat of a vehicle without a special child restraint, unless… i) there is no rear seat, ii) the rear seats are already occupied with children under 10, or iii) there are no seat belts.
Are you keeping up? Good.
Compulsory equipment
The French laws may also have you spending a few Euros on new kit. Three years ago, under the rule of Nicolas Sarkozy, it was made compulsory for drivers to carry breath test kits in their car – or face a fine.
Other compulsory equipment includes a warning triangle, a high-visibility safety vest, spare light bulbs, GB stickers or number plate with an EU logo.
And you should probably check your satnav too. France has banned satnavs that are capable of detecting speed cameras – or, you guessed it, face a fine.
That doesn't quite cover everything. There are the peculiarities of driving on the right, the speed limits, the alcohol limits… and so on. But these pointers should certainly get you started on the roads in France and then on into Europe. If you'd like some more information, then the RAC and AA websites are worthwhile stopping places along the way.
Bon chance!